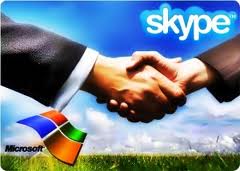 Gigaom's Om Malik feels that the biggest reason for the deal "is Windows Phone 7 (Mobile OS) and Nokia. The software giant needs a competitive offering to Google Voice and Apple's emerging communication platform, Facetime."  The company puts it this way: "Skype is a phenomenal service that is loved by millions of people around the world," said Microsoft CEO Steve Ballmer. "Together we will create the future of real-time communications so people can easily stay connected to family, friends, clients and colleagues anywhere in the world."
Me?  I think Skype could be Microsoft's best acquisition ever made.  That is if the technology is put in the right hands:  small and medium sized businesses.  The secret is CRM.
And I'm not just saying this because we sell Microsoft's Dynamics CRM product.  I'm saying this because, when implemented the right way, any good CRM system will track all the communications between a company and anyone who comes in contact with that company.  So nothing falls through the cracks.  And everyone knows what's going on with customers, prospects, suppliers and partners.   The clients I know who have succeeded with CRM not only realize these benefits now but are also building an asset that will significantly contribute to their future valuation.
But there's one thing missing in Microsoft's CRM application, like many of the CRM applications on the market today.  And that's phone integration.  Easy integration.  For years my clients have asked for help making their CRM systems "talk" to their phone systems.  They want a contact screen to "pop" up when someone calls into the company (or gets transferred to a sales or service rep).  They want to be able to make outgoing calls immediately when clicking a contact name.  They want to be able to record phone calls and link them to a person's account in the system, not only to keep an historical record of the call but also to sometimes cover their butts when people are trying to remember what was said.
For years the popular CRM vendors have claimed to do this.  And it can be done.  But it always involves third parties.  And it takes more resources than most of my clients are willing to spend.
The perfect example of this is Peter Koso, who is Vice President of Operations at educational software maker Lexia Learning.  Earlier this year, Koso undertook the replacement of his company's existing CRM system from an older version of Sage's SalesLogix to the popular cloud based application Salesforce.com.   According to Koso the company had "outgrown" the older product and needed a system that could handle order processing, marketing campaigns, customer service and be open enough to integrate into their existing financial system.  To accomplish this, the seventy person company found itself not only paying $125 per month per user for the Salesforce application but upwards of $50,000 in consulting fees to integrate and customize the software.  And that doesn't include the time and resources spent by the company's internal project management team and employees.
This is no small investment, particularly for a relatively small company.  Many of the companies I work with who are of a similar size would choke on these numbers.  But Koso gets it.  He understands the long term value a system like this can bring.  And the management of Lexia Learning understands that making an investment in a great CRM system now will enable the company to be that much quicker and better in the years to come.
Which brings us to the phones.  Koso also wanted to integrate his new CRM system with their phone system.  And here is where timing is everything.  Because Koso was also looking for a new phone system at the same time.   Perfect!  He made integration a priority.
Koso bought his new communications systems from Thinking Phone Networks,  a provider of unified communications technology.  As good a company as Thinking Phones is, they're operating in a very competitive environment.  And let's face it:   today's phone systems generally have most of the same features.  But Koso found that Thinking Phones offered a few unique advantages:  they used the best hardware around (Polycom phones), they operated entirely as a cloud based communications provider and…they connected to his CRM system.
"I wanted my employees to connect from anywhere, even their homes."  Koso told me.   "And for that I needed both my phone and CRM systems to be cloud based and integrate with each other."
And that they did.  Thinking Phones' connector to Salesforce.com did two things he needed right out of the box.
For starters, all voice mails recorded by the new system were converted into .wav files and were able to be easily linked to a contact record.  That way anyone in the company who wanted to hear the voice mail (particularly the ones who wanted to cover their butts) could do so just by accessing the right record in the CRM system.
More importantly, the marriage of the two systems made their calls quicker.  When working within Salesforce.com, a customer support rep, for example, can click on a button next to the customer's mobile or office phone number and the call is immediately placed out of the phone system.  As the call is connected, the customer support rep's phone rings.  The rep can then pick up their own phone and wait for their party to answer on the other line.  A huge time savings.
And a match made in heaven.  Koso got his new CRM system.  And he got his new phone system.  And they talked to each other.  Almost out of the box too.  Almost.
Because there is still more to be done.  Koso wants the same screen pop functionality that I mentioned earlier.  And he wants the CRM system to be able to automatically populate more data from those "quick calls", like time of call, duration, even the type of call (cold call, return call) so that his reps can do even less data entry.  Koso and the guys at Thinking Phones are at this moment putting these new features into place.
There are plenty of third party applications that integrate phone systems with CRM systems.  Thinking Phones, for example, has a connector for Dynamics CRM too.
But is anyone from Microsoft reading this?
Can you see how fragmented this market is?  For Koso to integrate his phone system to his CRM system he got lucky:  he was able to replace his entire phone system with a new one that had this capability at the same time he was buying a CRM system.  Most of the clients I work with don't have this luxury.  And Koso had to find the right communications partner with the right application to do the job.  And even that product, as good as it is, needs to be improved.  And one other thing:  Koso admits he's a technology guy.  And an internal technology guy was essential for getting this integration to work.  Not everyone I work with are fortunate enough to find good partners (like Thinking Phones) using good hardware (like Polycom's) and who have the internal where-with-all to connect their systems to their  CRM software.
There are over a hundred million people using Outlook.  Microsoft claims there are 22,000 customers and over 1.1 million users of its Dynamics CRM product (which is built inside of Outlook in addition to having a web interface).  And it's growing.  Why not make Skype integration with these two products a priority?   You own the software now.   Making a call from Outlook by clicking on a button?  Recording the call and linking to the contact?  Linking incoming calls to contact records?  Incorporating Skype's video into the picture? This seems pretty easy.  And the big advantage is that you can do this so your customers don't have to involve a third party middleman.  And that'll make companies like Thinking Phones happier because really, do you think those guys want to be spending their own limited resources on supporting a bunch of connectors to CRM systems?
Microsoft I'm sure has its plans for Skype.  And I know that tying this technology into games and mobile apps is fun for the masses.  But what about the business community?  What's going to keep us using Outlook over the next ten years?  Why should we choose Microsoft's enterprise applications, like Dynamics CRM, over competing products like Salesforce.com?
I'll tell you why:  Skype's technology, if it's part of Outlook and Dynamics CRM out of the box, will make it quicker and easier for us to communicate with our customers.  And that will increase our sales.  And that's what's fun for me.  And my clients too.  Buying Skype could be Microsoft's best acquisition ever.
blogs.forbes.com