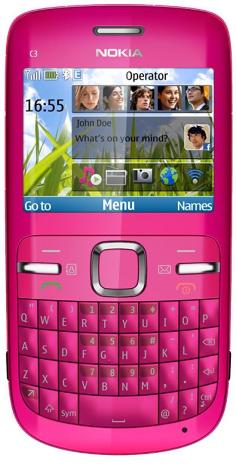 Highlights
QWERT keyboard
The full keyboard is a joy to use even for us with large thumbs. Typing SMS and email is easy and even fun.
Impressive battery life
I managed to squeeze out 4 days from a single battery charge. The 4 days included some Pakalast calls, web browsing, playing games and … wait for it … an entire photoshoot. Apart from the day to day photos, I had to take individual photos of an entire church choir and my camera was conveniently missing in action.
Wi-fi
It was a very wise decision to have WiFi in the C3. Nokia had to sacrifice a lot of stuff to get the price so low, thank God for they kept Wi-Fi. You will be able to make significant savings on data costs by making use of Wi-Fi.
Design
We got a Hot Pink version of the Nokia C3, but it is also available in Slate Grey and Golden White.
The front and the battery cover are Hot Pink while the rest of the phone is black.
The Micro USB port and MicroSD slot are on the left, the charging port and the 3.5mm audio jack are on top.
It has two programmable softkeys, which I left in "Go to" and "Names", 4 way navigation key, select button, "Yes" and "No" buttons, and then 2 dedicated buttons for one touch access to Communities and Messenging.
The QWERTY keyboard is well spaced and easy to use, after you learn how to unlock the keypad! Many people who have touched it have had to ask me to do it for them.
Communication
It seems like the Nokia C3's life goal is to keep you in touch as it comes with many features to achieve that goal. It comes with an inbuilt Nokia browser and the Opera Mini for the web, and you have the option of using EDGE/GPRS or Wi-Fi. I found the Wi-Fi rather brilliant for Nokia to have included in such a device because the EDGE can get expensive with the live feeds and updates, email and everything.
The Nokia C3 has an inbuilt Communities application which integrates your Facebook and Twitter accounts into your mobile. You get live updates right on your home screen, you will never miss a single status update or tweet .
Then there is the email which also worked quite impressively. It allows you to add up to 20 personal accounts. I added my PC Tech email, Ovi, Yahoo and Gmail accounts, and I was able to have my email with me everywhere I went.
You can chat with friends on Windows Messenger, Yahoo Messenger, Google Talk and Ovi Chat. It works like a charm.
The communities and Email applications have got dedicated buttons that will have the app up and running instantly.
Ease of Use
The C3 is very easy to use, especially if you are used to other Nokia devices. You will need a few minutes of getting used to it, but you will not need to read the manual to use it. I however recommend that you actually read the manual whenever you buy a mobile phone or any other device at that, because the manual contains a lot of information which the manufacturer felt is important for you to know.
Overall, this is a great communication device on a rather modest budget. It is worth every cent you pay for it and much more. I would recommend any day.