Challenge
News
Opportunities
Startups
AfriConEU, Outbox Hold Bootcamp To Discuss Ideas on how to Digitize and Create Jobs
The outcome of this will help design an incentive model that is not merely economic for both Africa and Europe to collaborate, but also one with a clear pathway of how talent can be attracted, built and retained.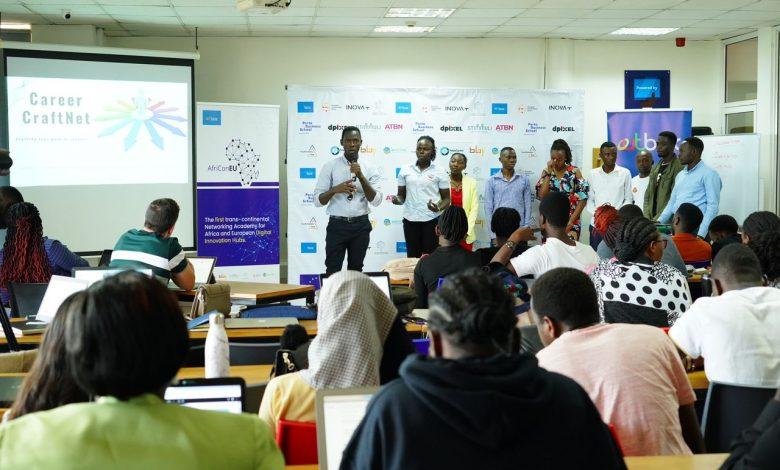 In a three-day bootcamp that closed today in Kampala, AfriConEU, a European Union (EU) funded project, and its Ugandan partner Outbox collaborated to ignite ideas towards digitalization and creating jobs for the 21st century.
The 3-day designing thinking bootcamp themed "digitalization, jobs for the 21st century and employment opportunities" was intended to explore the solution to the challenges women and youth are facing as they make their way into the digital economy majority of them centering around strategy, upskilling and expertise and budget constraints.
As the Ugandan startup ecosystem moves towards digitalization, most of the jobs of the 21st century are interlinked with access to the digital economy world over. It is therefore urgent to start paying attention to the opportunities that might come with how digital transformation is reinventing business practices in Africa and Europe.
In his address at the boot camp, the team Principal at Outbox and Chairperson at Startup Uganda Richard Zulu said, "In the current era, technological capabilities are constantly improving and in order to keep up, entrepreneurs and digital innovation hubs must be agile and innovative as they integrate digital technologies into their business practices."
"To stay competitive in any market, having a digital transformation strategy is necessary, " he added.
Richard further said, "The transition from business-as-usual to digital-first is no easy feat — our digital world shifts rapidly and unpredictably. Keeping up can present a challenge and leave many unsure of how to proceed. This is where this boot camp on design thinking comes in."
"We would like the entrepreneurs and innovation stakeholders to ideate around the challenges faced by youth and women in Africa accessing employment in the digital world," said Richard Zulu remarked.
During the Women-in-Tech panel on the opening day, Eunice Baguma Ball, Director of ATBN and Co-Founder of ishango.ai said "The average person in Uganda to afford a digital device is what rates the digital economy here."
Vaolah Amumpaire, Co-Founder of Wena Hardware, another panelist advised the entrepreneurs in the room, "if you want to do something, you better be the best at it. Go out and learn."
Dona Sava, Programs and Projects lead at Hive COLAB, advised the government of Uganda to invest in research and development of the digital economy.
A positive transition to digital technologies enabled by the human-centeredness of design is likely to improve the quality of life of entrepreneurs and innovation stakeholders that belong to the ecosystem.
While facilitating the event, Ana Alexio, the program manager of INOVA+, an AfriConEU Partner, mentioned that Digital advancements offer several opportunities for digital innovation hubs to gain competitive advantages, pushing them to transform their operating models as they seek trans-continental collaborations.
From the managerial standpoint, governing a digital transformation process is a complex task, as it means steering the process that goes from the exploration of the ample spectrum of opportunities that digital technologies provide to the reduction of this complexity to a final set of actions to be designed and executed.
Boot camp winning ideas 2023.
Some of the ideas that were suggested as solutions to the challenges that are faced with joining the digital economy include the following winners:
SITUKA Uganda facilitated by INOVA+ in 3rd place.
Easy Employ facilitated by HapaSpace in 2nd place.
ACES facilitated by ATBN and Emerging Tech Africa.
ALSO READ: MICROSOFT-BACKED FAST ACCELERATOR OPEN FOR APPLICATION TO BOOST AFRICAN STARTUPS