Boston Dynamics, Google's-owned robotics company in a YouTube Video posted early this week on Monday officially unveiled its latest 6.5 feet tall robot dubbed Handle; which looks vaguely human with a torso, arms and legs that have wheels instead of feet, immediately captivated the Internet.
According to the company's description, Handle travels at 9 mph and jumps 4​ ​feet vertically. ​It uses electric power to operate both electric and hydraulic actuators, with a range of about 15 miles on one battery charge. ​​​
Handle uses many of the same dynamics, balance and mobile manipulation principles​ found in the quadruped and biped robots, but with only about 10 actuated joints, it is significantly less complex. Wheels are efficient on flat surfaces while legs can go almost anywhere.
"By combining wheels and legs Handle can have the best of both worlds," the company notes
In the video Handle rolls down steps, jumps over barriers and onto tables. It boasts a vertical leap of 48 inches, which compares favorably to great human athletes like the winners of the NBA's dunk contest. In the 96-second video, Handle also shows speed and agility.
The robot is also capable of carrying heavy loads, displaying its strength in one clip in which it lifts 100 pounds (1:02 minute of the video).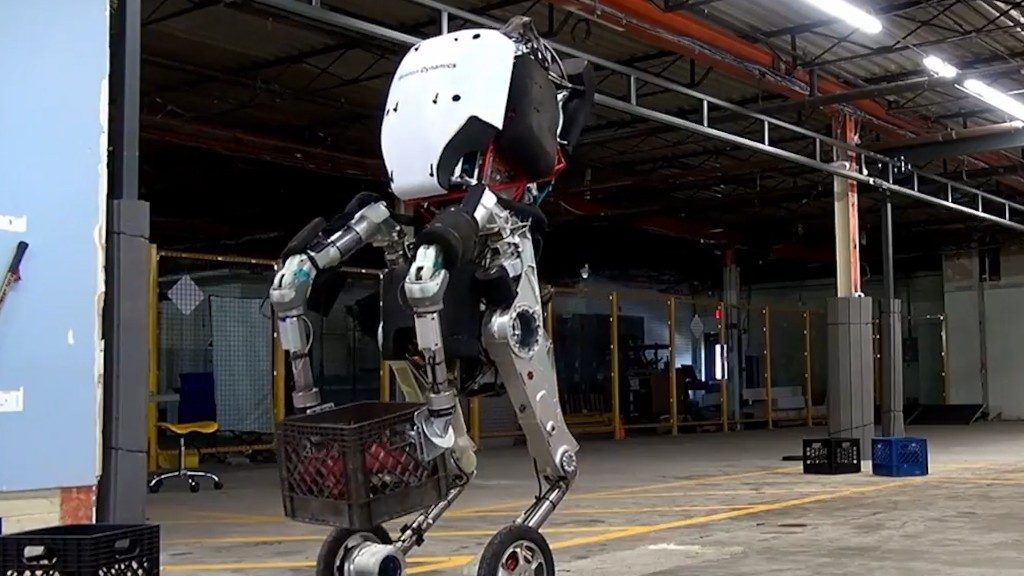 Boston Dynamics says 'Handle' is still a research project.
There were no mentions of when when, or if ever, we'll see the robot operating in the real world joining the likes of its very owned designed robotics; LS3, Atlas, Petman, Cheetah, BigDog, SandFlea, RHex, RiSE, and LittleDog.
According to reports by CNN, Handle first surfaced earlier this month, when a Silicon Valley investor posted footage of Handle that aired at a private event.
"This is the debut presentation of what I think will be a nightmare-inducing robot, if you're anything like me," Boston Dynamics CEO Marc Raibert told the crowd at the time, drawing laughter, CNN news reported.
Finally! Robots are designed to handle heavy task, though there some that are designed to handle the simple tasks. For instance, as of last year, one of world's biggest automakers, Toyota Corp. designed a simple robot dubbed Kirobo Mini, described by the company as a miniature communication partner developed to provide companionship.