Microsoft
African educators win at Microsoft E² Educator Exchange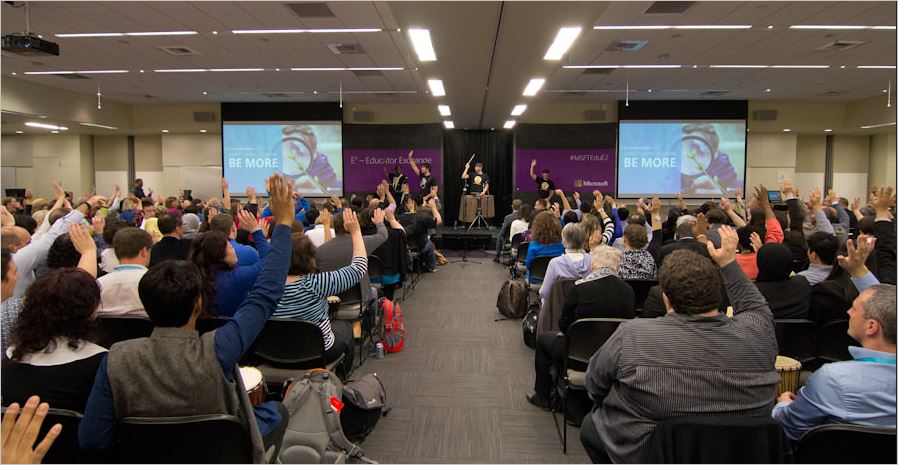 Microsoft has announced the winners of the Global Educator Challenge, which includes six educators from across Africa. John Gichuri from Kenya; Floyd Chanda from Zambia; Sachita Jeeta from Mauritius, Mokhudu Machaba and Warren Sparrow from South Africa and Nelly Hamed Abdelmoneim from Egypt were celebrated at the 2015 Microsoft E² Educator Exchange event alongside over 60 educators from more than 40 countries. These educators were recognised for having demonstrated exceptional innovation in their field and during competitive sessions at the event – working with their peers to design a project around the use of Microsoft technologies within the specific theme of bravery, courage, and leadership.
"ICT needs to play an essential role in bridging the emerging opportunity divide," says Djam Bakhshandegi, Corporate Social Investment Lead for Microsoft West, East, Central Africa & Indian Ocean Islands. "We need to guide youth toward the education, skills and opportunities they need to prosper in the hyper-connected era, and teachers need to be at the heart of this. Using technology in the classroom effectively is particularly important in Africa as we prepare graduates to be globally competitive".
Floyd Chanda, one of the winning educators hailing from Libala Secondary School in Zambia, has seen the positive impact of using technology in the classroom. He makes use of One Note, Sway, Office Mix and Skype, and comments: "For me, these tools help me to organise my work and presentations, as well as keep track of my learners' development. Technology is also a great tool to make learning more interesting and facilitates learners learning from one another." John Gichuri from Mary Mount Secondary School in Kenya adds, "Technology helps us to deal with a shortage of teachers. With Office Mix I am able to teach two classes at the same time and even teach when I am absent from school because I can easily prepare a lesson beforehand and leave it with another teacher to give to the learners."
For the first time,  were also invited to the E2 event, and set their own challenge to showcase their knowledge and what they have learned throughout their participation in the program. Working in teams that required them to use their problem solving skills and Microsoft product expertise. The winning team included students from Chile, India, United Kingdom and the United States.
The three-day E² Educator Exchange recognised and celebrated the achievements of educators who are preparing students with the skills to succeed the 21st century. The event brought approximately 300 of the world's most innovative educators for an unparalleled opportunity to collaborate, create and share their experiences on how to integrate technology and pedagogy in ways that achieve 21st century learning outcomes.
"The winning educators have proven themselves among the most innovative in their field – showing how they can adapt technologies to help solve the challenges faced in countries around the world," said Anthony Salcito, Vice President, Worldwide Education at Microsoft. "Now we're excited to see how they take what they've learnt at the event, share it amongst their peers and use it to transform teaching and improve learning outcomes."
E² was part of the Microsoft in Education initiative that offers a range of professional development programs to bridge the gap between technology skills and innovative teaching. These programs reach beyond traditional software training to provide a platform that supports educators and school leaders of all skill levels on their learning journey. Through these programs, Microsoft has trained more than 10 million educators and reached more than 200 million students since 2003 worldwide.
E2 Global Educator Exchange Awards: Full Winners
Teacher projects were awarded across eight categories:
Best Achievement
Overall Challenge
Winning Group: Floyd Chanda (Zambia), Prissy Ko (Hong Kong), Dianne Krause (United States), Shane Mann (New Zealand), Masahiko Mizuno (Japan), Dobely Ruiz (Costa Rica)
First Runner-Up: Jasmin Guelland (Germany), Mokhudu Machaba (South Africa), Thanh Nam Ngo (Vietnam), Sarah Platero (Canada), Jan Voda (Czech Republic)
Learning Activity
Winning Group: Krystel Al-Akl (Lebanon), Edgars Bajaruns (Latvia), Bernd Liebenwein (Austria), Matthew O'Brien (Australia), Fernando Reyes (Chile)
First Runner-Up: Kostas Dimitriou (Greece), Otniel Hambira (Namibia), Trent Ray (Australia), Maria Lorraine Ruiz-Alma (Dominican Republic), Srinivasan Sriram (India), Muhammad Zulham (Indonesia)
Project Plan
Winning Group: Marilene Bauer (Brazil), YoungSang Cho (Korea), Lara Dabbagh (Ireland), John Gichuri (Kenya), Bozena Kraj (Poland), Kristen Messer (United States)
First Runner-Up: Efraín Cornejo (El Salvador), Kaylyn Dorland (Canada), Jaana Hekkanen (Finland), Puji Lestari (Indonesia), Akimichi Matsuyama (Japan)
The Pitch
Winning Group: Zainab Al Baloushi (United Arab Emirates), Patricio Antimán (Chile), Gareth Callan (Ireland), Ke Hu (China), Thi Lieu Nguyen (Vietnam), Giedrė Prialgauskiene (Lithuania)
First Runner-Up: Angel Angelov (Bulgaria), Emma Hicks (United Kingdom), Jiuke Ma (China), Zoe Tostevin (United Arab Emirates), Francisco Tupy (Brazil)
Project Excellence
Building Educator Capacity
Winning Group: Kelli Holden (Canada), Lidija Kralj (Croatia), Ding Xuan [Andy] Ng (Singapore), Warren Sparrow (South Africa), Wei Wang (China)
Enhancing Student Collaboration
Winning Group: Chamila Priyanka Bandara (Sri Lanka), Holly Dornak (United States), Osnat Hayak (Israel), Yen Lin [Jenny] Lee (Singapore), Antoine Moussy (France), Mariana Pedro (Brazil)
Product Innovation
Winning Group: Tammy Dunbar (United States), Sachita Jeeta (Mauritius), Padma Sukumar (India), Steffi Marita Miland Svendsen (Norway), Pey-yu Twu (Taiwan)
Mind Shift
Winning Group: Kamilah Abdullah (Malaysia), Mireia Gussinye (Mexico), Nelly Hamed Abdelmoneim (Egypt), Zhanara Nurmaganbetova (Kazakhstan), Anika Remerij (Netherlands), Soma Singh (India)
Student Case Competition:
Winning Group: Kelsey Yin (United States), Dyuthi Sutram (India), Thomas La Guardia (United States), Andres Gonzales (Chile), Harry Traynor (United Kingdom)