Rwanda
Rwanda ranked first in ICT promotion. Globally!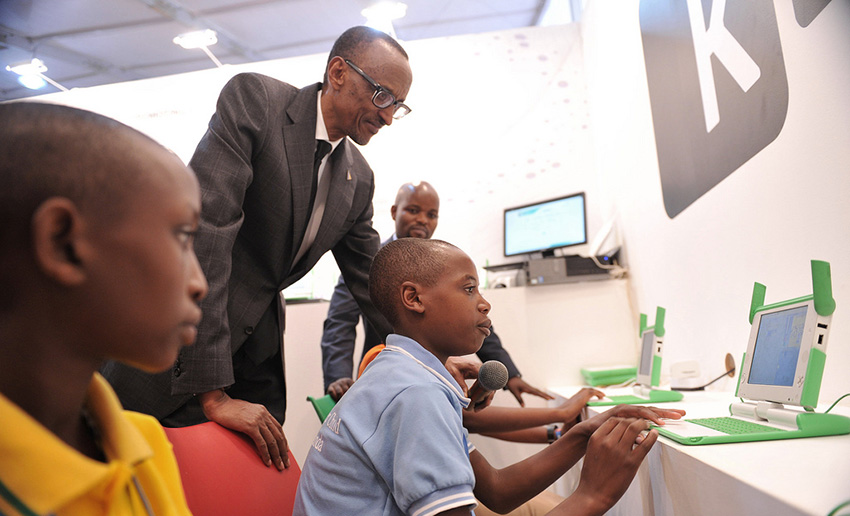 The Global Information Technology Report (GITR) 2015 has ranked Rwanda first globally in Government Success in ICT promotion to drive social and economic transformation. According to the report – which was compiled by World Economic Forum (WEF), Rwanda scored 6.2 points out of 7.
The Report was released on Wednesday, 15 April 2015 in Geneva, Switzerland. It features the latest iteration of the Networked Readiness Index which assesses the factors, policies and institutions that enable countries to leverage ICTs for increased competitiveness and well-being. Government Success in ICT promotion is one of several sub-indexes of the GITR index overall, where Rwanda is ranked number one.
Overall, Rwanda was ranked No 83 out of 143 countries surveyed. Rwanda is the first country in the region and the 5th in Africa.
Commenting on the report the Rwanda's Minister of Youth and ICT, Jean Philbert Nsengimana stressed that "Rwanda continues to be one of the fastest growing African countries in ICT and there are several avenues for growth for the ICT sector – from e-commerce and e-services, mobile technologies, applications development and automation to becoming a regional centre for the training of top quality ICT professionals and research. A robust ICT industry creates wealth, jobs and entrepreneurs."
Related Posts
[related-posts]
He further added that "New developments include K-Lab, a youth innovation hub, Think a technology hub in Kigali, Rwanda Media Hub, The Office… and YouthConnekt, which connects the youth to role models, resources, skills and employment opportunities. The new Kigali Innovation City (former technopole) which has already attracted the first Carnegie Mellon University campus in Africa presents a unique opportunity for not only real estate developers but also tech multinationals who want to provide the best living, learning and working environment to their global and home grown talent. Many young Rwandans have turned their ideas into innovative companies. Many are starting a business when they graduate from university."
Since 2001, the Networked Readiness Index (NRI) assesses on an annual basis the factors, policies and institutions that enable a country to leverage information and communication technologies (ICTs) for shared prosperity.
This assessment is based on an aggregation of 53 individual indicators grouped in four main components: environment, readiness, usage and impacts. The individual indicators use a combination of data from publicly available sources and the results of the Executive Opinion Survey, a global survey of 13,000 business executives conducted by the World Economic Forum in collaboration with its network of 160 Partner Institutes.