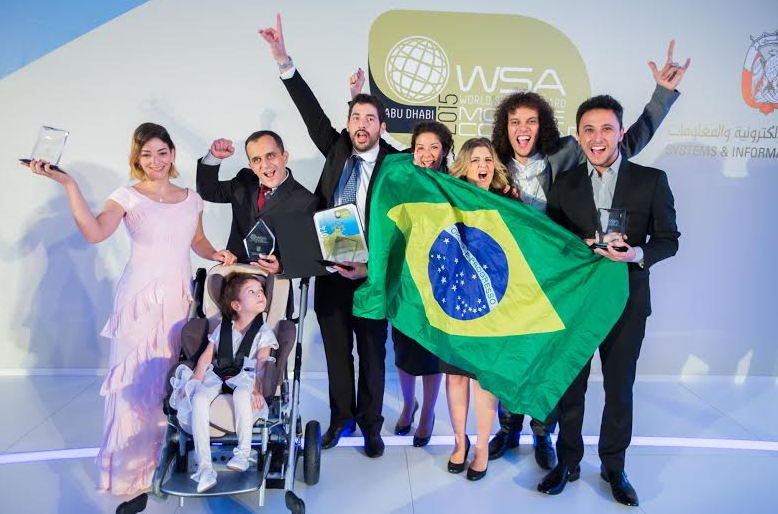 UN based award WSA-mobile wraps up successful edition of world's top mobile content event in Abu Dhabi. The 8 top mobile apps honored at Grand Gala concluding a 2 days Congress of mobile innovation.
Be it flexible business solution MOBIZY from Portugal, citizen orientated service Dubai Police app from the UAE, crisis simulation app Life Saver, create your own game Createrria from Poland, AR tourism experience Ancient Aquilea 3D from Italy, do it yourself reporter app LIFENEWS from Russia, medical translation app Universal Doctor Speaker from Spain or special needs supporting user interface LIVOX from Brazil.
The WSA mobile, an award showcasing the smartest mobile services with a social impact globally, has selected the world's best solutions for content enriched application development for 2015.
The 8 WSA mobile Global Champions have been exclusively selected by an on-site Grand Jury of 40 international ICT experts at the WSA-mobile Global Congress held in Abu Dhabi, 1-3 February 2015, hosted by ADSIC (Abu Dhabi Systems and Information Centre).
Martin Percy, Interactive Film Director at the UK-based company: Lifesaver/Unit 9 showcased the highly beneficial 'Lifesaver: A New Way To Learn CPR', which is a crisis simulating app that provides users with essential first aid training on how to deal with an emergency situation such as a heart attack or chocking by teaching basic CPR techniques to users through interactivity and live-action film.
Percy said, "Being part of this event has been very exciting and inspiring due to its location in Abu Dhabi, which has been a model for the world in building sustainable economies."

"Moving forward, my dream is to develop a super life saver that would offer more than 12 medical solutions and in several languages, including Arabic."
Carlos Pereira, a Computer Analyst and dad from Brazil who was trying to communicate with his daughter born with cerebral palsy, highlighted the truly inspiring 'LIVOX' app, which is an alternative augmentative communication software for people with motoric, cognitive and visual limitations, aiming to ensure that people with deficiencies do not encounter the same obstacles in the digital world as in the real world. LIVOX enables people with disabilities to speak, read, write and understand complex concepts like math.
On the sidelines of WSA's workshops, Pereira expressed, "I'm very happy and thankful to be here today, as I have made many new connections which I hope to turn into business opportunities and subsequently help more disabled people throughout the world."
Enrico Degrassi and Daniele Bulfone from IKON Multimedia – Italy, were showcasing the Ancient Aquileia 3D App which puts archaeologically interesting cultural content on a mobile platform with detailed augmented reality reconstructions of main locations from the ancient Roman city of Aquileia allowing visitors to use their devices as peepholes in time and as interactive video guides.
Prof. Peter A. Bruck, Chairman of the World Summit Award Board of Directors commented, "Mobile devices are the closest and most critical things for people in today's information society. Mobile penetration has already outnumbered the earth's population. Access to mobile networks is today as important as clean water or basic foods. The challenge is to create exciting content and innovative applications that do more than just meet basic needs of communication. Content, applications and solutions that impact the daily lives of millions and that connect minds in a smart manner."
Peter A. Bruck added, "The WSA mobile Global Congress is the impressive showcase of products from all United Nations member states that make a difference and therefore have been selected by the WSA-mobile jury of global experts from 40 countries. The World Summit award addresses the social impact of mobile content and apps in the context of the UN focus on making the world sustainable and to create a true knowledge society."
The eight 2015 WSA Mobile Global Champions were honored for their pioneering innovation in the field of mobile content during the awards ceremony of the highly acclaimed ICT knowledge-sharing event, WSA mobile Global Congress 2015, which took place at the St. Regis Hotel Abu Dhabi–Corniche, between February 1 and 3.
Hosted by ADSIC, the three day event showcased mobile applications from across 178 countries and eight main categories covering a range of key economic, social and business areas, from commerce and government to environment, health and education.
Focusing on originality, diversity and creative content, the 48 winning teams were selected by a jury panel of subject-matter experts within the framework of the United Nation's World Summit on Information Society (WSIS) and represented 30 UN member states from the Middle East, Western Europe, North and South America, Africa, Russia, and South and East Asia.
The 3 day event witnessed the attendance of more than 400 local and international participants. Overall, 30 speakers shed the spotlight on a number of key m-content issues including excellence in mobile content, ways of supporting the UN's Millennium Development Goals and operational innovation.
Commenting on the occasion, H.E Rashed Lahaj Al Mansoori, Director General at ADSIC stated, "ADSIC continually seeks to reinforce its position as a platform for thought leaders and subject-matter experts and proactively contributes to positioning the emirate of Abu Dhabi as an ideal platform to celebrate and honor true innovators. "
"The breadth and sheer quality of innovation that was demonstrated during this event is a testament to the Information Society's ongoing efforts to create new pioneering solutions that cater to all, on every level."
Al Mansoori added, "The successful exchange of insights and global learnings we, in the last three days were both inspirational and motivating, and we are proud to have provided a platform in the heart of the UAE's capital for this key ICT gathering."
During the three day event, Dr. Major General Ahmed Nasser Al Raisi, Director General of Abu Dhabi Police Central Operations and H.E Hamad Obaid Al Mansoori, Director General of the Telecommunications Regulatory Authority (TRA) were accompanied by H.E Rashed Lahaj Al Mansoori, Director General at ADSIC and toured the Exhibition area, gaining first-hand insights into the mobile apps and solutions that were being showcased by the winners.
The visiting guests also toured the 'Ibtikari' 2015 booth organized by the Khalifa Fund for Enterprise Development (KFED).
Other highlights included interactive networking opportunities, innovation pitches from WSA winners, UAE Entrepreneurship Camp with Emirati students and 'Ibtikari' 2015, which is an initiative in partnership between the Abu Dhabi-based Khalifa Fund for Enterprise Development (KFED) and WSA that aims to encourage entrepreneurship and innovation by facilitating knowledge transfer between mobile experts and Emirati youth.