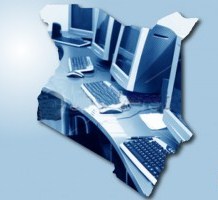 Years later, the government has invested billions of dollars in the sector and has pursued public private partnership for investment in the ICT sector. 
"Our policy direction greatly assisted this country to achieve its current status as a regional information and communication technology hub.
We focused on five key areas: Infrastructure, Content and applications, Capacity building, Public-private partnership, and employment creation," the PS said.The great entry of government policy in ICT has seen broadband speed increase.
The costs have also decreased significantly ,Today, Kenya can witness positive competition in the provision of internet by the major players including the telecom companies. Data now makes a huge part of their revenue streams. 
With over 10 million Kenyans with access to the internet through the desktop or through the mobile Web, Kenya is having one of the highest Internet penetration in Africa. 
The government has also supported innovation hubs across the country to help tech entrepreneurs develop their solutions in this country.
However, there is more to be done. "Whilst we have comprehensively deal with infrastructure, we are still a long way from making an impact in entrepreneurship which is the gateway to creating massive employment via the internet," Dr. Bitange noted.
"Kenya has done well in application development that have improved not only the effectiveness of doing business but also created employment especially for the youth," he added.
These revelations were presented during the Freedom Online conference on its first day,towards the end of last year, Kenya was ranked fourth in Africa as the country with most Internet users.
Nigeria tops with 45 million Internet users, attributed to the country's large population estimated at 155 million people.
In the year 2000, Kenya had only 200,000 Internet users but currently has over 10.4 million users, showing an estimated monthly growth of 300 new subscribers each month.
Just last year, the number of Internet subscribers in Kenya increased by 13.48 percent from 5.42 million to 6.15 million between September 1 and December 31 last year, the Communications Commission of Kenya (CCK) says. 
CCK statistics however put the figure at 17.3 million when all mobile and data internet subscribers, terrestrial wireless subscribers, satellite subscriptions, fixed internet connections, fiber optic subscriptions and fixed cable modem users are combined.
According to the World Internet statistics, Kenya's  Internet penetration is estimated at 25.5 percent of the population which stands at 41 million people.
CCK's figures put the penetration at 36.6 percent.The Kenyans users account for Africa's 7.5 percent people with access to internet, According to The Standard Digital report.
Source:Humanipo