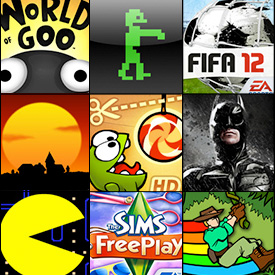 The iPad's large, gorgeous display gives gamers a more open, visual experience that isn't as restricted as the iPhone/DS/3DS/PlayStation Vita's relatively small displays.
This makes it an excellent device for any number of games, but it especially benefits those with large footprints, such as board games like Catan and Carcassone.
There is one significant drawback, however: Unlike traditional video-game portables, the iPad lacks physical controls, which can make gameplay less than intuitive on certain titles that weren't built from the ground up with iOS in mind or that demand intricate controller inputs (such as fighting games like The King of Fighters-i, though they usually have a streamlined iOS-friendly control scheme).
In those circumstances, ThinkGeek's Joystick-It Tablet Arcade Stick can come in quite handy. There are rumors circulating that Apple plans to release its on dedicated mobile gaming controller, but only time will tell if that comes to fruition.
Initially, many iPad games fell into the casual and diversionary categories (Angry Birds Space, Quarrel Deluxe HD), but an increasing number of the best iPad games are aimed at the dedicated, or "core," audience.
Gameloft's 9MM, for instance, brings Max Payne-inspired gun play and mature content; Chair Entertainment's Infinity Blade 2 is a high-octane action-RPG with console quality graphics; Cave delivers ports of insane bullet-hell shmups (DoDonPachi Resurrection, Espgaluda II HD) that will obliterate the Angry Birds crowd with their intense twitch gameplay.
Note: Some games (like Pitfall!) require a bit more horsepower to run, and as such, won't work on the first-gen iPad. We'll highlight which games featured in our roundup requires that extra processing power.
View SlideshowSee all  slides  MoreMost iPad games fall within the $5 to $10 range (Sonic CD), but you can find titles that are free (Temple Run), or carry price tags that approach the $20 mark (such as the $14.99 Soul Calibur). Still, that's about the half the price of your typical DS/3DS/3DS XL/PlayStation Vita title.
If you're ready to iPad game, check out our story to discover what we consider to be can't-miss games that will keep you entertained at home or on the road. The majority is dedicated iPad games, but we also include a few iPhone games that look great when played in 2X mode.
If you want to check out our other video game recommendations, click the links below. Think we missed a game? Be sure to let us know in the comments so we can consider it for our next update.
Source:PC MAG