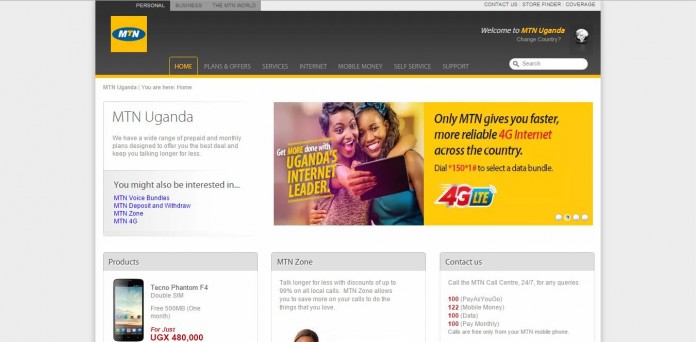 Although the website address remains the same — www.mtn.co.ug — the entire site has been re-designed. The company has not yet officially launched the new redesigned website at the moment and it's still in beta.
Fully responsive, the new site is designed to have maximum impact on every device, from mobile to tablet and desktop, with faster page-load time and simpler navigation.
The new design has an improved visual layout, which makes it easier for users to navigate. Emphasis was put on a responsive design that enables it to display properly on desktops, tablets, and mobile devices as many Ugandans are now tending to visit the web on mobile.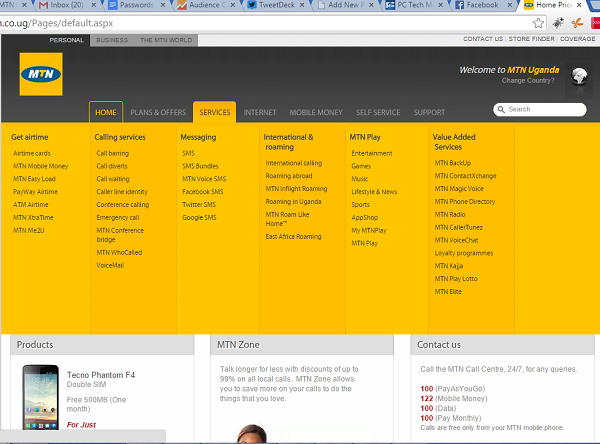 The redesign features soft colors and bold graphics that are consistent with the corporate branding from the old website.
Visitors will find more than 50 pages of well-organized, navigable content, including photos and illustrations showing how to use the many services and products available from MTN Uganda business aimed to serve their 11 million subscribers better on the digital platform.
An internet account – online internet portal is also available on the new website. This feature allows you to monitor your data usage. Similar, is a self-service – self-care portal where users will login and manage accounts on the website.
Another useful link on the new website is the MTN Store locator, which helps subscribers locate the nearest stores to them, its address and opening & closing hours.
More importantly a link you must see is the MTN bank deposit and withdraw feature, one of its latest services that allows MTN Mobile Money customers who also have accounts with several MTN partner banks to deposit their Mobile Money direct to their bank account from their phone, or withdraw money from their bank account onto their Mobile Money account.​