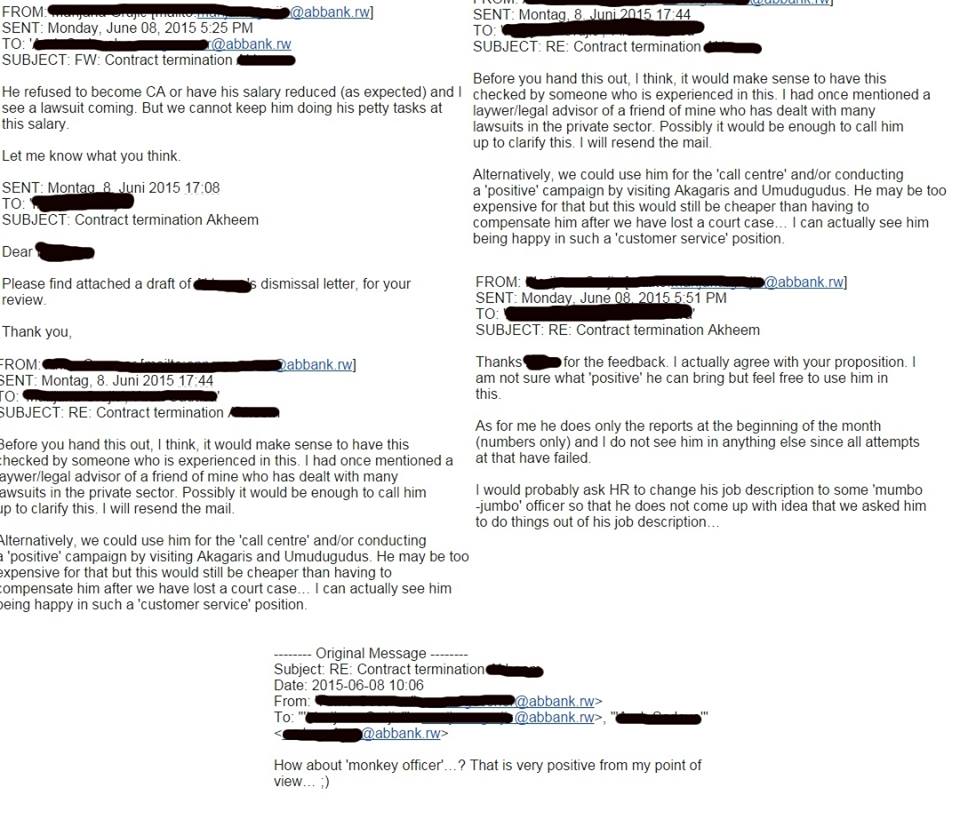 Leaked emails from AB Bank-Rwanda have left the institution fighting to save its corporate image.
The private e-mail correspondences between two of its expatriate managers has one proposing 'monkey officer' as a new title for one of their local employees after he reportedly refused a demotion.
Judging from the text in the email, 'Monkey officer' is an unusual title for someone who works in a bank and to many people who have read the leaked e-mail correspondences interpreted it as racism.
The staff at the centre of the alleged racist attack is Jean Maurice Akheem Bwitonzi, who joined AB Bank from Equity Bank in 2013 on a three-year contract, worth Rwf450,000 a month, as head of Alternative Banking Platforms.
The bank allegedly was expecting a grant to fund its alternative banking activities but this hasn't materialised, allegedly leaving Bwitonzi's salary and position untenable.
On refusing to take a demotion to Client Assistant, an entry-level position that comes with a pay-cut, Akheem angered his managers, who then apparently initiated plans to sack him.
However, cancelling Bwitonzi's contract would either mean heavy compensation or a nasty court battle, both unwelcome to the bank – which is currently in court with two of its other employees who sued after wrongful dismissal a few months ago, with one case already disposed of in favour of the plaintiff (the bank is appealing).
The leaked e-mail correspondences are in-house exchange about a management problem regarding an employee who, in the bank's perspective, had become an unnecessary burden.
It all starts with Marijana Gurujic, AB's chief of operations, who is also Akheem's direct supervisor, apparently receiving an e-mail of Bwitonzi's draft termination letter.
The original e-mail, under the subject 'contract termination of Akheem,' says; "Dear Marijana, please find attached a draft of Akheem's (Bwitonzi) dismissal letter for your review."
Marijana then forwards the e-mail to a one Arah Sadava, the chief executive, and Anne Gossner, the chief credit officer.
"He has refused to become a CA or have his salary reduced (as expected) and I see a lawsuit coming. But we cannot keep him doing his petty things at this salary. Let me know what you think," writes Marijana on Monday, June 8.
In a lengthy response, Gossner expresses her fears of the consequences that could arise with the drastic dismissal measure.
"Before you hand this out, it would make sense to have this checked by someone who is more experienced in this; I had once mentioned a lawyer/legal advisor friend of mine who has dealt with many lawsuits in the private sector," Gossner advises.
She suggests that they give him a customer service role to promote the bank at the cell and village level since the bank operates as a micro-finance institution.
"He might be too expensive for that, but this would still be cheaper than having to compensate him after we have lost the court case," Gossner writes.
But then the downfall comes. It is Marijana responding, admitting she shares views with Gossner, and expresses her reservations about firing Bwitonzi.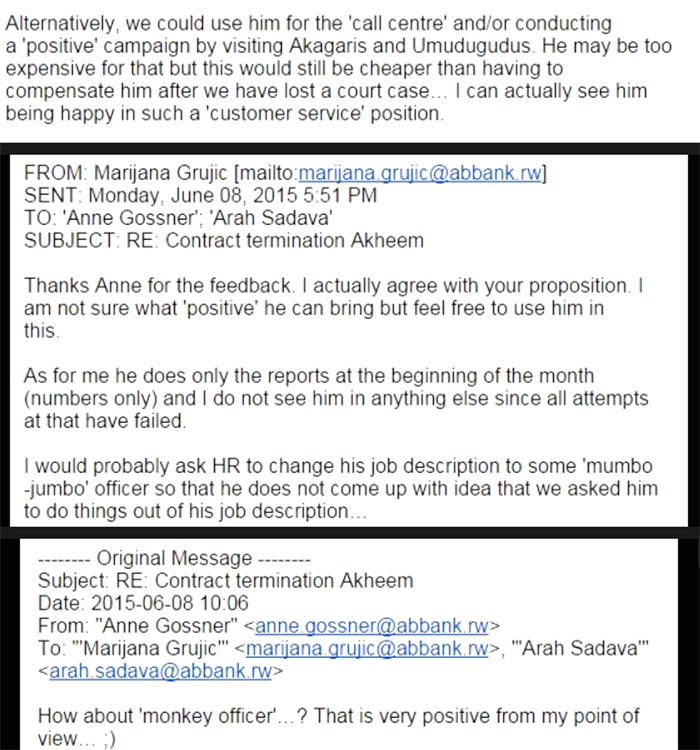 She also welcomes Gossner's proposal to put Bwitonzi in a customer service role at village level but expresses her doubts regarding 'what positive' he can bring if placed in such a role adding that she found him unnecessary.
"I would probably ask HR to change his job description to some 'mumbo-jumbo' officer so that he does not come up with ideas that we asked him to do things out of his job description," Marijana writes.
It was at that point that Gossner shared her proposal that irked many people.
"How about 'Monkey officer'… ? That's very positive from my point of view," Gossner writes, ending with winking emoticon.
Bwitonzi says he was also shocked to read the leaked e-mails from the public domain.
Via New Times