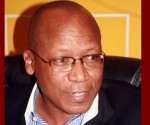 The MTN group boss was reacting to President Museveni's demand for all telecommunication firms to float shares through the capital markets so as to give Ugandans an opportunity to get a share of their profits.
The President made the demand in July while meeting members of the ruling National Resistance Movement caucus . Citing South African-owned MTN as an example, President Museveni argued that it is unfair that telecommunication firms are repatriating much of the "abnormal profits" they make.
Going forward, he said, the mobile companies must declare the amount of money they make in each year so that the government makes regulations like setting threshold amounts they must invest within the country.
The MTN group earned up to Shs783 billion in profits last year, going by the 1 per cent (Shs7.8 billion) contribution that the firm contributed to the Uganda Communications Commission, the industry regulator.
All telecoms are required by law to contribute 1 per cent of their profits to the Rural Communication Development Fund, to finance the development of communication in rural areas.
MTN is the most profitable telecom of all the major five telecoms including; Airtel, Uganda Telecom Limited, Orange and Smile Telecom. MTN supports the principle of spreading out shareholding of the firm but is opposed to the way the government wants it to be done.
"That principle we support. But how you do it, I don't believe it should be regulated by the industry regulator. The regulator should concentrate on regulating the industry and not how we fund the business."
However, MTN is open to options like the acquisition of its shares by institutions such as the National Social Security Fund. According to Mr, the MTN Group discusses the issue of listing its subsidiaries on annual basis looking at various markets.
According to Mr The key issues the firm looks at are the financial benefit of listing its shares in the market, whether the locals have the ability to take up the shares and if the domestic stock market is vibrant and effective.
"It's an ongoing discussion and an on-going debate that we will always be having," he told journalists on his business review meeting.
Source: Daily Monitor