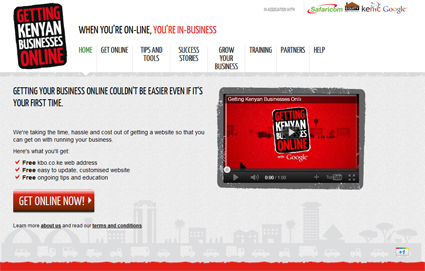 Small and medium businesses are the heart of the Kenyan economy, contributing over 80% to GDP and employing over 5 million people. As these businesses move online, they will access new markets and new customers, both local and international, increasing the gains to the economy. However, currently only about 10% of these enterprises are online; many expect that getting a website will be costly or complicated.
That's why we're thrilled to announce today that Google, Safaricom, Equity Bank and KENIC have come together to create Getting Kenyan Businesses Online (GKBO), an initiative aimed at all those thousands of Kenya SMEs, including sole traders, that do not have a website or online presence.
Together with our partners, GKBO will provide free or subsidized services to help businesses to use web and internet technologies. This includes supporting organizations that provide assistance for small and medium businesses, as well as other industry organizations that are aligned with the aims of the initiative.
The GKBO tool takes the time, hassle and cost out of creating and running a website so that you can get on with your business.
Here's what you get:

Free .kbo.co.ke. web address e.g. www.mamamboga.kbo.co.ke

Free easy to update and customizable website

Free online marketing through business listings on www.kbo.co.ke

Free ongoing tips and education
How easy and hassle free is getting a website?
You don't have to be a technical genius to build your website using the GKBO tool. Are you familiar with the web, or have you used email, powerpoint or social sites? You will easily learn how to build a website. Google has taken all the hard work out of it.
Any small and medium business countrywide — whether they are mama mbogas, shops that sell cakes or furniture, or offer safaris or DJ services — can sign up easily at minimal or no cost.