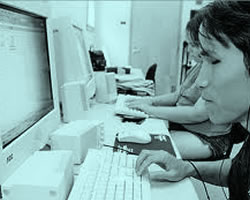 The partnership is designed to provide visually impaired Americans with the opportunity to buy and sell items on eBay and to build entrepreneurial businesses using the auction site.
In order to make the site more 'user friendly' for the visually impaired, eBay has developed enhanced search, browse, buy, bid and sell features which can be operated with the keyboard alone as well as assisting technologies like screen access software — which can detect what is displayed on the screen and convert it into speech. One type of screen access software is the Thunder screen reader which can be downloaded at http://www.screenreader.net.
Online electronics and consumer goods retailer Amazon.com also provides access options for the visually impaired through Amazon access which was launched in 2001. Apple's music, video and apps store iTunes is also designed to be compatible for screen reader technology enabling it to be used by those with visual impairments. Other online retailers including a large number of supermarkets also offer services for the visually impaired.
Source: yourictmagazine news