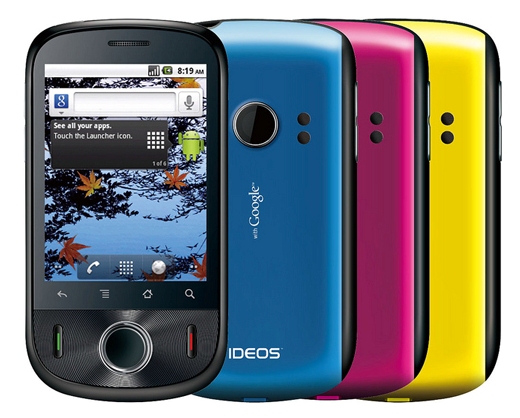 The Huawei IDEOS U8150 smartphone is equipped with Android 2.2, called Froyo, as well as a 2.8in capacitive touchscreen and a 3.2-megapixel camera. It is let down by a small, low-res display but the IDEOS still represents excellent value for money.
First looks:
The IDEOS has a glossy plastic casing – probably not everyone's first choice of a body for a smartphone – but still, standard for a phone in this price range. It has three options for rear covers – blue, yellow and pink colours.
Despite having the kind of plastic body you would expect at this price point, build quality is not compromised — the IDEOS doesn't creak or rattle and feels reasonably well constructed. Below the screen are Android's standard, touch-sensitive shortcut keys (back, menu, home and search), and Huawei has also included thin answer and end call keys either side of a large five-way navigational pad.
The Good:
Selling at UGX 344,500 (from MTN with 500MB Data package) and UGX. 399,000 (from Orange Uganda with 2GB Data package, valid for four months), the IDEOS is certainly the closest an "average" Ugandan has come to owning a smartphone.
Its built-in wireless tethering means you can use your phone as a Wi-Fi Access Point [and share your internet connection wirelessly with your computer], or connect a USB cable and use it as a modem. We observed that the battery lasts just under 6hours when Portable Wi-Fi Hotspot is enabled and in use.
Other features include a built-in accelerometer, Wi-Fi, Bluetooth, a digital compass and a GPS receiver. The Huawei IDEOS also has a microSD card slot for extra storage, located behind the rear battery cover. The piece we reviewed was shipped with a 1GB microSD card.
The phone also has a 3.2-megapixel camera but lacks a flash for night-time photography.
The Huawei IDEOS was one of the first smartphones to ship with Google's Android operating system, 2.2 or Froyo. In addition to all the regular features and functions of an Android phone including access to the Android Market for third-party apps, an excellent notifications taskbar and automatic and seamless synchronisation with Google services, Froyo adds the ability to store third-party apps on your SD card, as well as general performance improvements.
The Not-So-Good:
The IDEOS's curved and rounded shape means it sits nicely in your hand, but it is not a particularly attractive phone for those used to higher-end smartphones.
Manufacturers of low-end smartphones generally compromise when it comes to a handset's display in order to keep prices down, and Huawei is no exception. The IDEOS includes a 2.8in capacitive touchscreen with a very low resolution of 320×240. The screen is responsive to finger presses but has poor viewing angles, is hard to see in direct sunlight and displays text with clearly visible aberrations. The IDEOS's display is fine for most general usage, but it is inferior compared to many Android phones when it comes to viewing photos and videos and browsing the Web. One benefit of Froyo that doesn't apply to the Huawei IDEOS is full Flash support for Web browsing. Huawei says that the IDEOS doesn't have enough processing power to offer full Flash support.
The IDEOS' small screen combined with a lack of multitouch support (so you can't pinch the screen to zoom in and out) mean the Web browsing experience is noticeably inferior compared to Android smartphones with larger screens. Performance is adequate, but not outstanding; the Huawei IDEOS is a little sluggish to activate the accelerometer when tilted, and we also experienced occasional lag during testing, particularly when using the browser.
| | | |
| --- | --- | --- |
| PROVIDER | PRICE | INITIAL DATA PLAN |
| MTN Uganda | UGX. 344,500 ($150) | 500MB, One Month |
| Orange | UGX. 399,000 ($173) | 2GB, 4Months |