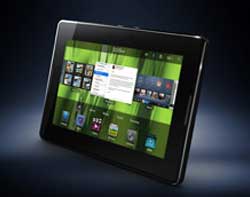 Prices for BlackBerry PlayBook users will match the prices on 7digital.com, with individual tracks and albums priced in a customer's local currency.
Ben Drury, CEO 7digital comments, "We're really excited to be working with RIM to bring the 7digital experience to the BlackBerry PlayBook. RIM has created an incredible tablet with premium multimedia features and together we are delivering a truly exceptional music experience for mobile users, offering content that is extremely easy to discover, purchase and use. "We currently have the largest international footprint of any MP3 digital music seller and we look forward to expanding our business with RIM throughout the year."
"The 7digital Music Store is a perfect complement to the high-performance BlackBerry PlayBook, providing users with fast searches and downloads, and a slick interface that makes it very easy to discover, purchase and enjoy music," said Alistair Mitchell, Vice President, BBM Platform & Integrated Services. "We are thrilled to be working with 7digital to provide BlackBerry PlayBook users with access to an amazing catalog of 13 million tracks."
The BlackBerry PlayBook tablet running the 7digital Music Store application will be previewed this week at the South by South West conference in Austin, Texas.
7digital is a leading digital media delivery company based in London and operating globally. Through 7digital's download store (www.7digital.com) consumers can access over 13 million legal high quality MP3 music tracks as well as audiobooks and videos at competitive prices across Europe and North America.