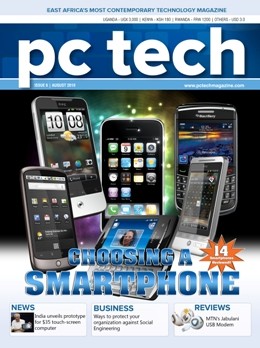 The PC Tech team, today, announce the release of the 6th Issue of East Africa's Most Contemporary Technology Magazine. In this issue, we observe that whereas, a year ago, it was fair to say that the IPhone was the best Smartphone in the market, Google's Android platform has made several good strides since then, making it fairly hard to make the choice. Smartphones are slowly becoming a necessity. With support for full web browsing, email and, in many cases, additional apps, they are much more than just a device you make calls on.
There's a bewildering array of handsets out there from the iPhone down to "slew of new Google Android-based models. Choosing the right one can be difficult, but we're here to make the job easy. In this Issue, we feature an extensive analysis of the smartphones available on the market today.
Our features on Mobile Health Technologies continue this month with an exclusive interview with Mr. Bas Hoefman, founder and Director of Text-to-Change.