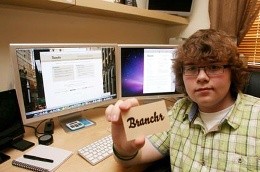 Advertisement
The page sold a package of very neat Mac OS X applications for a discounted price and for a limited time. He would negotiate with the developers to get a discount deal on their apps. The resulting bundle had a combined retail value of around $400, but he would sell it for a tenth of that price. (You know, like MacHeist, which we've featured before.)
Not only that: If enough people bought the package, a new application would get unlocked for all buyers, which guaranteed very good word-of-mouth promotion. And to top it all, Owens dedicated a percentage of all sales to charity.
The idea did well. Very well, in fact: In its first two years, Mac Bundle Box made $1,000,000 (700,000 British Pounds).
Not happy with that success, Owens jumped into a new venture called Branchr, a pay-per-click advertising company that distributes 300 million ads per month on over 17,500 websites, iPhone, and Android applications. The company, which claims to deliver "contextual, behavioral, publisher-defined, and geographically" targeted ads in those platforms, has already made $800,000 in its first year and employs eight adults including his 43-year-old mother, Alison.
He doesn't know where he would be in 10 years, but the next thing he wants to do is to make one hundred million British pounds with Branchr. He seems to be on his way to success. He claims his business is growing strong—Branchr has already bought another company—and he reinvests all the money back into the company.
His secret to success? There's no secret, he says:
There is no magical formula to business, it takes hard work, determination and the drive to do something great.
And also copying MacHeist.
In an age of idiotized kids who can't focus on anything, we salute you, Christian!
Source: http://gizmodo.com/
---