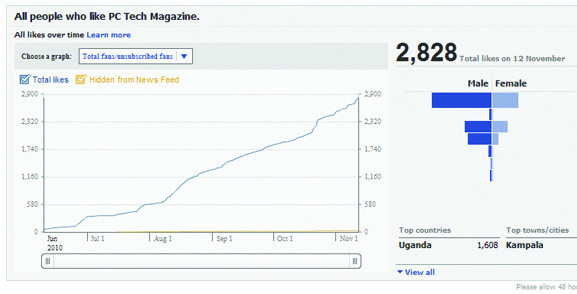 To be the leading media organization which promotes openness and collaboration on sustainable innovations in technology, business, and Society in Africa.
To create and disseminate in-print and online products on Technology, Business and Society that have a global perspective but contextually relevant to Africa.
The PC Tech Magazine is put together by a team of experts in their different fields: Technical, editorial, marketing and sales. Working together as a team they ensure that the magazine is timely, relevant and accurate.
Our writers are technology experts, professionals, business owners, managers and technology enthusiasts. The articles are well researched, accurate and very informative.
Below is the editorial summary of the magazine:
1. News
2. Inbox
3. What's new
4. Features
5. Interviews
6. Product / Software Reviews
7. Conversations on Technology Business & Society (TBS)
8. Business Solutions
9. Scholarships, Jobs and Tenders
10. Leisure (includes, games, crosswords, e.t.c)
11. Classifieds
PC Tech Magazine is intended for IT students, business owners, decision makers, individual technology users, technology enthusiasts, and scholars.
PC Tech Magazine has established long term partnerships with leading organizations and business entities that will help to ensure quality of information in the magazine, and fuel interactions between technology providers and users. These partnerships also increase the publicity of the magazine, and grow its readership to the benefit of advertisers.
Through these partnerships, companies get a platform through which to communicate new products and services to the public.
Also packaged with the magazine is a FREE Software Collection DVD containing Open-source software and commercial software (trial licenses) as selected by our technical staff.
The Magazine has got a classified listings section with IT service providers, and distributors/vendors of various products and accessories, along with other businesses. This section gives businesses an affordable opportunity to advertise and reach potential clients, and buyers have a one-stop reference point for all their technology needs.
The tenders section shall feature IT / Technology related tenders which will be of great interest to business owners and managers in companies and organizations.
PC Tech Magazine's international edition was launched in Accra, Ghana on September 24th, making it the first international technology magazine from East Africa. We also plan to participate in technology and business exhibitions which also build publicity for the magazine.
Presently, the magazine is one of the most popular East African publications on the internet, running an active facebook page with close to 2,800 fans. See graph below:
PC Magazine shall be distributed in high impact retail outlets, newsstands, airport, gift shops and bookstores Uganda, Kenya, Rwanda, Ghana, and Nigeria. A significant number of the magazines are delivered to the subscribers.
PC Tech Magazine shall reach over 10,000 readers in Uganda, and the numbers shall rise as the Magazine is introduced in the other East African countries.
Benefits of advertising in PC Tech Magazine
Advertising in PC Tech magazine are endless.
1. Cost-effective targeted advertising
2. Free classified listing in magazine and the magazine's website directory
3. The magazine contains information that is relevant over a long period of time, so the adverts have a long life span
4. High reach prospective since the magazine will be passed on to friends and family
5. Association with East Africa's leading technology magazine
6. Brand recognition and building in the magazine